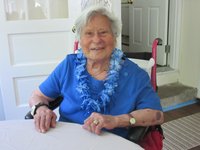 Santa C. Volpe
Santa Volpe (Cindy Raschiatore) of East Rochester passed away April 1, 2017, peacefully, in her 101st year. Predeceased by her husband Myron Volpe. She is survived by children Robert Volpe (Susan Keefe), Theresa (David) Weagley, Denis Volpe. Six grandchildren: Andrea Volpe, Michael Weagley, Christine (Michael) Schutterop, Lily Volpe, Justin Volpe, and Cara (Otto) Nelson. Three great grandchildren: Emily Schutterop, Nicolaas Schutterop, and Jacob Walker. She also leaves cherished and dear sister-in-law Jean Ferrimani, and several beloved nieces and nephews. Special thanks to her cousin, Dr. Holly (Raschiatore) Garber, and her loving, devoted caregiver Julie Miller. Cindy was the center of her family, Renaissance woman, loved by many, and proud of her home-town of East Rochester. Her greatest loves were her family, cooking, gardening, scratch-offs, bingo, and St. Jerome's Church. In addition, she was great at and found time for knitting, crocheting, sewing and decorating. Cindy was an entrepreneur starting in 1937 when at age 19, she opened the first commercial hair dressing studio in East Rochester. She operated this studio and later one in her home for 30 years. She later taught cosmetology for several years at BOCES in Fairport.
Her community life included serving as the District Chairwoman of the Girl Scouts for 15 years, librarian at St. Jerome's school, and serving as a member of St. Jerome's Alter Society for 15 years.
A memorial and remembrance service will be held at 11 am on Saturday, April 15th in the All Season's Chapel at White Haven Memorial Park, Marsh Rd., Pittsford.
In lieu of flowers, memorial gifts may be made to St. Jerome's Church, 207 Garfield St, East Rochester, New York, 14445, or to St. Ann's Community at Cherry Ridge, 900 Cherry Ridge Blvd., Webster, NY 14580