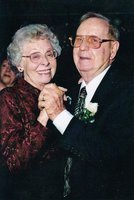 Marie Jeanette Walker
Marie Jeannette Walker, age 95, of New Windsor, New York, passed away peacefully on December 20, 2017 at the Highlands in Pittsford NY, with her family by her side. Marie was born on March 18, 1922 in Brooklyn, New York to Magdelen and Harry Watson. She graduated high school in 1940 and attended Queens County College in New York. In 1945 she wed Herman "Buddy" Walker, and the two remained married until his passing 65 years later. Marie worked in a number of positions over the years, including in the advertising department at Hearst Magazine, at the Teamsters Union, in food service, and as a bank teller. As a military wife, Marie accompanied her husband and children to assignments in Long Island, California, and Puerto Rico.
Throughout her life, Marie enjoyed a wide range of activities, from crossword puzzles, reading, and studying foreign languages to gardening, tennis and playing the piano and organ. She was also involved in a number of organizations, including her country line dancing troupe, which volunteered at nursing homes and in parades, and the church choir. She was also an accomplished seamstress and embroiderer. In her retirement, she traveled the world with her husband, including trips to Alaska, Venezuela, the Mediterranean, and Scandinavia. But Marie's greatest joy was always spending time with her family.
Marie is survived by her children: Bruce (Sandra) Walker, Nanette "Nancy" Walker (Donald Heywood), and Jeannette (John) Woznick; grandchildren, Kristin (Richard) LaFond, Keri Brewer (Charles Shea), Douglas (Keli) Geisler, Aimee Woznick, Elise Woznick, Michelle Woznick (Mark Nowaczyk), Sara Walker, Christopher Walker, and Meghan Walker; great-grandchildren, Carter and Austin LaFond, Riley and Quinn Geisler, and baby Nowaczyk; former son-in-law, Dennis Geisler; and several nieces and nephews.
Marie is predeceased by her husband, Herman "Buddy" Walker; her son, Douglas David Walker; and her brother, Bruce Robert Watson.
Funeral Service will be private. Burial will be at the convenience of the family. In lieu of flowers, donations may be made to the March of Dimes: March of Dimes Attn: DRFR 1275 Mamaroneck Avenue, White Plains, NY.
The family wishes to extend their gratitude to the wonderful and caring staff at The Living Center at The Highlands of Pittsford, NY.