---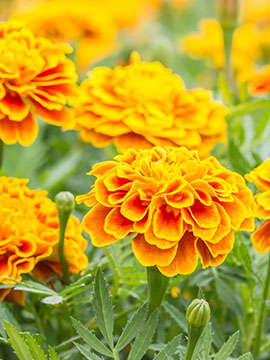 In Memory of
Grace Sisler Strong
1936 - 2017
Obituary of Grace Strong
Strong, Grace Sisler
Pittsford, NY April 28, 2017 Grace has gone to sing with the angels. Beloved by God, she was a compassionate, loving, fun, friendly and caring woman. Everyone enjoyed her hugs.
Grace is predeceased by her parents, Lewis and Grace Sisler and her big brother, Dr. Daniel Gene Sisler. She is survived by her loving husband of 57 years, David Strong; three sons Allan (Lisa Nawrocki), Daniel (Jo), Brian (Amanda); grandchildren, Evan and Haley Grace; several nephews and many very dear friends.
Grace was born November 14, 1936. She grew up at Kenneglen where her father was caretaker of the Kennedy estate. She walked to the two room schoolhouse in Wales Center, NY with her neighbor and friend, Nancy Drosendahl. She had a retired police horse, Idaho, and a pet raccoon, Rastus. She was a member of 4H. Grace graduated from East Aurora High School in 1954. She is remembered for her science project evaluating a new chicken feed formula for baby chickens conducted in the high school basement.
Grace studied Occupational Therapy at the Richmond Professional Institute, a division of Virginia Commonwealth University, graduating in 1958. She received her OTR in June 1959 following internships at Highland View Community Hospital in Cleveland, OH, the Northport VA Hospital in Northport, NY and the Children's Rehabilitation Institute in Reisterstown, MD.
Grace married David Strong on July 18, 1959 at St. Matthias Episcopal Church in East Aurora, NY. She was employed by Strong Hospital at the Edith Hartwell Clinic in LeRoy, NY. She worked with young people challenged by Cerebral Palsy before retiring to raise a family in Penfield, NY. As the mother of three sons she soon became a Den Mother in Cub Pack 299 in the Highland District, Otetiana Council. She served as Den Leader Coach, District Trainer, Pack Commissioner, PowWow Chair and Cub Pack 9 Committee Chair in Penfield. She was awarded the Silver Beaver in 1977 for outstanding leadership in Scouting.
Grace loved nature and the outdoors. In the 1970's she helped raise money to preserve and expand the Thousand Acre Swamp in Penfield. She was a member of the Thousand Acre Swamp Preservation Committee building trails, scheduling hikes, fighting invasive species and posting boundaries. She led many bird and wildflower hikes. She especially loved leading hikes with school children and their delightful thank you letters. Grace's passion for environmental stewardship was an inspiration to her children, guiding them each to careers in the natural sciences.
Grace was an active member of St. Mark's and St. John's Episcopal Church where she taught Sunday School for ten years, served on the Vestry and was twice elected Warden. She was on the Altar Guild for years, partnering with Mildred Meyer and Betty Gibbens. In 1985 she and Gerry Sanders initiated a new outreach program, "A Step Out in Faith." They started the Helping Hands Food Shelf, which continues to support the Beechwood neighborhood.
The garden was Grace's domain. She was active in the Penfield Gardeners and the Creative Gardeners of Penfield where she twice served as Chair. She was a member of the 7th District Speakers Bureau sharing her horticultural knowledge and talent. She won many awards for her displays at local flower shows. Her service to the Creative Gardeners is acknowledged in the 7th District Book of Recognition.
Grace has been a member of Christ Episcopal Church in Pittsford for many years. She served on the Outreach Committee and as a Reader and Greeter (more hugs). She and Joan Grover established the post 8 am Sunday service coffee hour and social at the request of Rector Winifred Collin.
Grace never believed in just belonging. She actively participated in P.E.O. (Chapter AC), the Genesee Ornithological Society, the Friends of the Rochester Carousel and the Genesee Land Trust. Her favorite activities were camping, birding, reading, cooking (think smart cookies), knitting prayer shawls, travel and growing orchids. She loved all kinds of music especially Frank Sinatra, Anne Murray, Bach and Handel. Recently she sang with the Pittsford Highlands Choir.
Funeral service will be held at Christ Episcopal Church 36 South Main St., Pittsford, NY on Saturday May 6th, 2017 at 1:00 PM with Reverend Joshua Walters of Christ Episcopal Church officiating. Reception will follow at Christ Episcopal Church.
Do you have a favorite memory of Grace? Please share it on the Harloff Funeral Home website, www.harlofffuneralhome.com, or send it to Grace Strong Remembrances c/o Christ Church 36 South Main St., Pittsford, NY 14534. In lieu of flowers, a gift in memory of Grace may be made to The Nature Conservancy 1000 Acre Swamp Fund, C/WNY Chapter, 274 N. Goodman St., Suite B261, Rochester, NY 14607; or The Alzheimer's Association Rochester & Finger Lakes Region, 435 East Henrietta Road, Rochester, NY 14620; or Kid's Club, St. Mark's and St. John's Episcopal Church, 1245 Culver Rd, Rochester, NY 14609.
who we are:
It is our desire to make our professional assistance as complete as possible, providing personal and dedicated service to all we are privileged to serve. Proudly serving all faiths.

Our Location:
Harloff Funeral Home
803 South Washington Street
East Rochester, NY 14445
Phone: (585) 586-5948
Fax: (585) 248-0365
Email: Jeff@harloffs.com
Amy@harloffs.com
Scott@harloffs.com