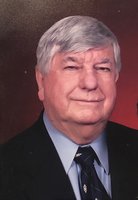 Jerome P. Lysaught
Dr. Jerome (Jerry) P. Lysaught, Ed, D, 89, of Rochester, NY passed away peacefully on September 22, 2019. He was a loving husband, gentleman, father and grandfather.
Jerry was born in Kansas City, Kansas on March 4, 1930 to Michael and Minnie Lysaught and was the youngest of 7 children. Jerry attended Rockhurst High School in Kansas City, MO, the University of Kansas, where he received both his BA and Masters in Political Science and went on to receive his Doctorate from the University of Rochester.
Jerry served as a machine gun Platoon Leader with the 1sr Marine Division in Korea and was awarded the US and Korean Presidential Citations. Jerry retired from active duty in 1952 and from the Marine Reserves in 1954 with the rank of Captain.
Jerry and Dolores met in 1950, married in 1953 and moved to Rochester in 1954 to take a position with Eastman Kodak where he was employed until he joined the faculty of the University of Rochester in 1962.
Jerry was well received in the field of Nursing Education at the U of R. He held positions of Professor of Pediatric, School of Medicine and Dentistry; Professor of Nursing, School of Nursing; and Professor Emeritus of Education, the Warner Graduate School of Education and Human Development.
He was a celebrated author of 13 books, 6 of which received foreign translation. He also authored numerous articles for publication in nursing journals, along with chapters in other books and collections.
Jerry received "Book of the Year in Nursing" in 1974 and again in 1980. He was the recipient of a number of other honors including a commendation from the Secretary of the Air Force for his work as Chairman of the Advisory Board of the Community College of the Air Force. He was also instrumental in establishing the College of Nursing at D'Youville College in Buffalo, NY and also enhancing the Nurse Practitioner program in upstate NY.
Jerry is preceded in death by his parents and six siblings, daughters, Jan Marie, Paula Marie and Eileen Marie. He is survived by his loving wife, Dolores; daughter, Clare Mcpherson; and granddaughters, Jessica Flanders, Emily Flanders, Colleen and Mari Blasio.
A mass celebrating Jerry's life will be held on October 26, 2019 at 10:30AM at the Sisters of St. Joseph Mother House, 150 French Rd., Rochester, NY 14618. In lieu of flowers donations may be made to the Sisters of St. Joseph. A reception will follow on site.