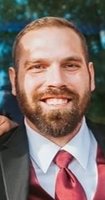 Jon Letta
Jonathan David Letta, of East Rochester NY Born June 5, 1989 Passed November 8, 2019
Jonny passed suddenly on Friday morning November 8, 2019. He was predeceased by his maternal grandparents, Betty and Donald Roets and paternal Grandma Letta. He is survived by his sons, Ethan and Antonio, their mother Stacy Ferrari, grandfather Joseph Letta, mother Julie Letta, father Joseph Letta, sister Nikki (Bryan) Fillmore, brothers, Joey (Courtney) Letta, Don (Heather) Letta, nieces and nephews, Brianna, Adrian, Sadie, Joey and Jackson and numerous cousins, aunts, uncles friends and Marine Corps brothers.
Jonny was a beautiful soul, he loved deeply and was a fiercely loyal brother, son and friend. He changed the temperature of any room he walked into. He had an impact on you from the first moment you met him. He loved his family more than anything in the world and was loved by many. His sense of humor, smile and love will be missed by many and loved and remembered by all.
Veterans Crisis Line 1-800-273-8255 option 1
"We cross our bridges when we come to them and burn them behind us, with nothing to show for our progress except a memory of the smell of smoke, and a presumption that once our eyes watered."
Calling hours for Jonny will be held on Wednesday, November 13th from 2:00pm until 6:00pm at Harloff Funeral Home, 803 South Washington St., East Rochester NY where a prayer service will be held at 6:00pm. In lieu of flowers, kindly consider donations to Mission 22 which is a registered 501(c) (3) non-profit organization dedicated to healing America's veterans when they need it most---right now.