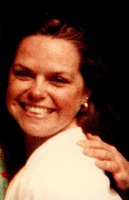 Joan L. Scardino
Joan L. Scardino, age 64 (39), passed away on November 16, 2019, at home in Pittsford, N.Y. She was born a twin on May 31, 1955. Joangraduated from Lake Park High School in Minnesota in 1973. People described Joan as "one smart cookie" and, indeed, she was, graduating as Valedictorian of her class. Joan was talented in music (first chair trumpet), gardening, decorative creativity, and communication (talking!) She went on to Moorhead State College studying science and to M.I.M to study Medical Health Technology. She worked at various clinics in Minneapolis.
Joan took a trip to San Francisco where she met the love of her life, Russell Scardino. They married on February 23, 1994, where they lived a number of years. Eventually, they decided to pack up the truck and moved close by to Stone Harbor, New Jersey, where togetyher they started Shore Works Painting. Joan, of course, was the CEO with Russell. At the same time, she worked as a Dispatcher for The Avalon Police Department. It was here that Joan discovered her true talent as a Caregiver to many people. They later moved to Rochester, New York, Russell's original hometown, where she continued her vocation of Caregiver.
Growing up, many summers were spent with the Seydel relatives at Floyd Lake in Detroit Lakes, MN. One of Joan's favorite events was participating in the 4th of July boat parade competition. Joan being very competitive adopted the phrase "Go big or Stay on the Shore." As a result of this motivation, her family's team would win first prize.
After moving to Pittsford, New York, Joan became very active in the Sherwood Neighborhood Association. This is where she got to know and love her great neighbors who became her second family. Joan served on the Board of Directors. She was very generous with her time and leadership skills in helping to organize summer picnics, ice cream socials, and Food Cupboard drives, and perhaps her favorite activity, the Christmas Luminaries that made Sherwood glow on Christmas Eve. Her light showed brightly on Sherwood the year around.
Joan and Russ had four-legged children: Kobi, Shiro, Ruger, Bruno, Rex, and Romeo. Joan's love of dogs led to her opening her home to dogsitting other dogs. Her motto was: "My home, My rules" which meant the dogs would be pampered and treated royally. Many folks have said that, if there is an after-life, they would want to come back as one of Joan's dogs.
Joan lived for the MacKenzie-Childs Barn Sale. Family and friends benefitted from her love of this annual event and her generosity. Who in her right mind would leave her house at 3:00 a. m. to stand in line for three hours for a sale??? Joan would!
"Joanie Bolognie," as her sister nicknamed her, may have been vertically challenged; but you could not miss her. Just llok for the petite pretty woman with perfectly manicured nails (often painted red) wearing flip flops and a flower in her hair.
Joan was preceded in death by her husband, Russell; parents, Paul and Lyla Olson. She is survived by her twin sister, Jean Olson; brother, Terry (Vicki) Olson; sister, LaDon (Curt) Haugen; many others from her large family; and her beloved dog, Romeo.
Jean Olson, twin sister of Joan, gratefully acknowledges your attendance and many kind expressions of sympathy during her time of loss and invites you to joim us for a luncheon provided by members of the Shorewood Homeowners Association in the Fellowship Hall of the church following the service. Jean would like you to think of a special memory of Joan that you can share with her.

Friends may call at St. Paul's Lutheran Church, 28 Lincoln Ave., Pittsford, Saturday, November 23, 10-11 AM where a Memorial Service will follow at 11 AM. In lieu of flowers, kindly consider donations to Lollypop Farm or St. Paul's Lutheran Church.