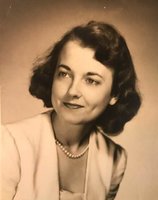 Sylvia B. Hauck
In the early morning of September 9th, in the presence of her beloved children, Sylvia B. Hauck peacefully passed away at home in Fairport, NY. Her spirit will eternally reflect her ninety years of vibrance and grace.
Born Sylvia B. Quinzi on April 24th, 1927 in East Rochester, NY. The daughter of Italian immigrants and one of nine children, Sylvia learned at an early age that life is a struggle worth enduring and the rewards of dedication and perseverance are richer than any material wealth can measure.
An avid reader from an early age, her curiosity and intelligence allowed her to graduate high school early and with distinction, earning her a scholarship to a technical college. She chose to forego this personal opportunity and instead entered the work force to help support her family. For seven decades, her outstanding work ethic created opportunities not yet known to women of the time. At every stage of her career, from the Piano Works as a teenager, to Kodak during and after the War, to becoming one of the first computer programmers with Xerox, she earned a reputation as being indispensable. Her desire to learn and improve never ceased.
Sylvia's many talents filled her life with richness. Her passion for music could be heard as she sang in the church choir or played the keys of the baby grand piano in her living room. Her voice was a gift to all whether it came as a song, a laugh or sound advice. As a young lady, she won the Times Union Bowling Classic to the accolades of her community, especially her brother, a hall of fame bowler. She sewed her own clothing, including the clothes she wore to work in the offices full of men. More than anything, it's impossible to remember her without her cooking. True to her Italian heritage, her kitchen was constantly filled with wonderful scents and flavors to be shared with friends and family.
Her family smiles when they recall the life of a woman who brought generosity, kindness, and unconditional love into their lives on a daily basis. They know she has found peace that is befitting the extraordinary vigor she brought to life.
She is survived by her children Valerie (Joe) Janlois, Andrew (Patricia) Ransco and Susan (Scott) Kreyer; her grandchildren Donny Roth, Danielle Thompson, Maureen Miller, Seaton Kreyer and Sara Kreyer; her great-grand children Will, Scott, Charlie and Riley Thompson, Analia Martell, Kristine and Caroline Kreyer, and Daytona and Billy Miller; her siblings Ania Balkiewicz, Teresa Quinzi-Willette, JoAnn Caiola and Dominic (Louise) Quinzi, as well as many beloved nieces and nephews.
Friends may call Tuesday, September 12, 2017, 4-7pm at Harloff Funeral Home, 803 S. Washington Street, East Rochester. A memorial mass will be Wednesday, September 13, 2017, 10am at St. Jerome's Church, 207 Garfield Street, East Rochester. Interment White Haven Memorial Park.